ACTIVATIONS
Increase dwell time and foot traffic with our custom designs from our talented team.
THE EXPERTS IN ACTIVATIONS
THE EXPERTS IN
ACTIVATIONS
Using our extensive visual merchandising experience mixed in with our custom build knowledge, our design team are experts in activations. From school holiday activations and void installations in some of Southeast Queensland's biggest shopping centres, our team loves to bring new life into spaces. Gift wrapping stations and Easter promotional stands, tenancy activations and Mother's Day photo moments, we can create in centre moments for any occasion. School holidays in centres will be the occasion everyone looks forward to. Our team will design and install interactive wonderlands or immersive experiences. Our elaborate inventory of props makes creating an activation even more special, setting apart your centre from the rest. With custom signage, foliage and flowers, backdrops and disco balls, whatever the theme, our team can create immersive and interactive spaces for all to enjoy.
VISUAL MERCHANDISING
Combining our experience with skills to inspire customers. Our team stays up to date with trends to style your space for increased engagement.
"It is always a pleasure working with The Prop House and VM+ on regular visual merchandising changeovers and themed shopping centre activations. The standard of visual merchandising provided by VM+ is outstanding. Whether the objective is to tell a story or showcase a specific product; the team always create an interesting visual masterpiece! Our display cabinets are always complimented by customers and retailers are appreciative of the collaborative process. When it comes to major events such as school holiday activations or seasonal displays, the team is my go-to for colourful and creative ideas. They are inventive, transparent, and understanding of budget constraints. "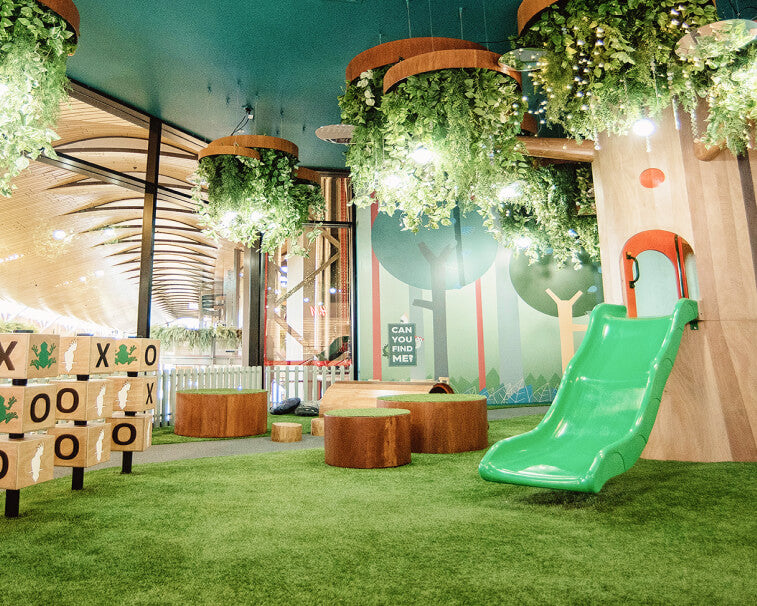 KIDS' PLAY SPACES
Our custom designed kids play spaces are created for children to discover and learn. Contemporary and engaging, our dynamic kids play spaces range in size and design and are often inspired by location. Our team loves to travel Queensland to create one-of-a-kind kids play spaces that will encourage dwell time in centre. Our designers are encouraging children to use their gross motor skills while inspiring social interaction, problem solving, creativity and exploration.   
SEASONAL ACTIVATIONS
From Easter to Christmas, Spring racing or Winter Wonderland, our activations range in theme and style for every seasonal occasion.
CUSTOM BUILDS
Bring us a brief and we will work with you to design and deliver a unique custom concept, creating stunning visual presentations to delight and inspire. No matter the scale and size, let us bring your vision to reality with the help from our designers. Our team loves creating interactive and engaging designs that no one else has seen before. Experts in the prop building industry, we build in our onsite warehouse or collaborate with local businesses to ensure a result that exceeds expectations.
Step 1
Chat to our client over the phone or do a site visit.
Step 2
Back to the office to create digital artwork and complete artwork and pricing into a digital styling proposal for the client
Step 3
Sign off from the client. Production meeting with the team to ensure the highest quality activation is produced.
Step 4
Styling crew prep and install the activation to specs to make sure a breathtaking experience is created for our clients.